Symptoms in humans
Mild infections are common and include fever, headache, and body aches, often with skin rash and swollen lymph glands. Headache, high fever, neck stiffness, stupor, disorientation, coma, tremors, convulsions, and paralysis mark more severe infection. In some individuals, especially the elderly, West Nile virus can cause serious disease that affects brain tissue. At its most serious, it can cause permanent brain damage and can be fatal.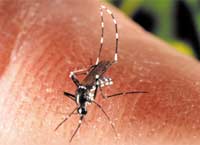 If you do get the infection, many will show little or no symptoms. A small number of them may have symptoms like those of the flu - like body aches and fever - and recover quickly to normal health.

Symptoms in horses
Clinical signs of West Nile virus infection in horses include: listlessness, stumbling, lack of coordination, ataxia, partial paralysis, and death. Horses with West Nile virus often do not have a fever. See The Ohio State University Veterinary web site for more details.

Diagnosis
Your physician will first take a medical history to assess your symptoms. People who live in or traveled to areas where West Nile virus activity has been identified are at risk of getting West Nile encephalitis. It is important to tell your doctor your recent travel history (the last 2 months). Persons older than 50 years of age have the highest risk of severe disease. If you are determined to be at high risk and have symptoms of West Nile encephalitis, your provider should draw two blood samples about two to three weeks apart and send them to a commercial or public health laboratory for confirmation.